Hijab. The very word conjures up images of gorgeous Muslim girls with pretty scarves tied around their head, hiding their hair from view. There's a great deal to be said about this amazing practice that elevates a girl's beauty by concealing something that societal standards deem necessary for her to look beautiful—her hair. So it's quite natural and unsurprising that the hijab has made its way into mainstream fashion. More and more girls have started wearing the hijab fearlessly, and the fashion police has started to sit up and take notice. In fact, London now hosts a Modest Fashion Week every year that showcases hijabs and full body covering dresses in all their glory.
Since hijab has become such a big part of fashion, we obviously had to give you our rundown of the best ways to wear hijab. But before we jump into that, let's look at why Muslim women wear hijab in the first place.
How To Wear A Hijab In A Simple Style
Drape a long rectangular scarf over your head with one side longer than the other.
Pin up both sides of the scarf together under your chin.
Flip the longer end of your scarf behind your opposite shoulder.
Flip the same end back to the front of the other shoulder.
Spread both the ends of your scarf so that they cover your chest.
1. Hijab Without A Pin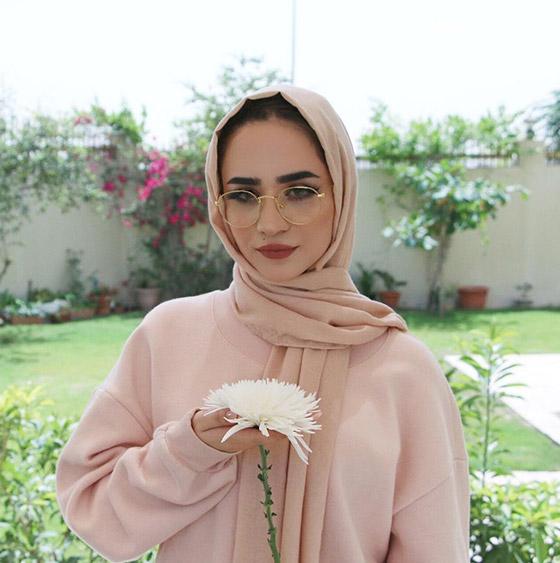 2. Chest Covering Hijab Style
Have you ever bought a beautifully printed headscarf and sulked over the fact that you couldn't properly show the print off after tying it into your hijab? If so, I totally feel your pain. Then this chest covering hijab style will work perfectly for you. Just spread one corner of it across your chest and tie the rest of it as your hijab to showcase its gorgeous print in all its glory.
3. Wrapping Hijab With Accessories On It
Add a bit of sparkle and shine to your boring old hijab with just some jewelry lying around on your dresser. A great way to do so is to insert some of your rings onto a loose corner of your hijab that's hanging down one side of your face.
Hey, just because you're a modest dresser doesn't mean you can't hop onto that Coachella fashion train! Accessorize your hijab (in a nude shade, maybe?) with one of those rose gold headdresses that seem to inundate your Instagram feed every time this iconic music festival rolls around.
4. Side-Pinned Hijab Style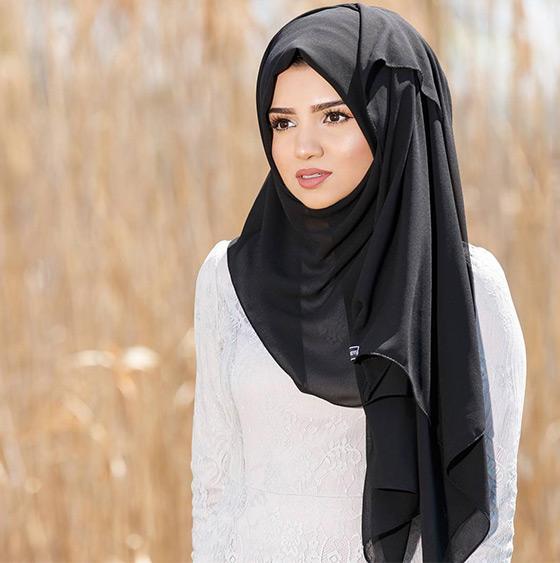 Side pinned hijab is probably one of the most common hijab styles around the world. And for a good reason too because it's the easiest and most practical style for everyday wear. Simply wrap your scarf around your head and secure it on one side of your head with a ball pin and you're done! Takes less than 2 minutes and doesn't budge throughout the day.
5. Hijab To Show Earrings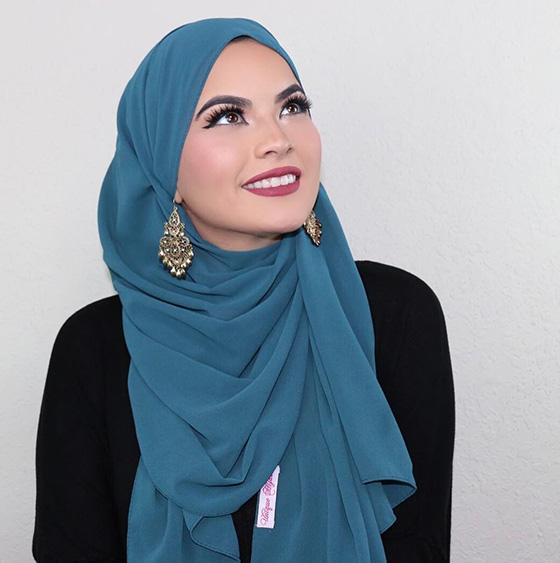 You don't have to give up on long dangly earrings just because you wear the hijab. Simply tie your hijab from slightly behind your earlobe and pop your earrings out to complete your look!
Another great way to show off your earrings while wearing a hijab is to go for a turban hijab style. Wrap your scarf all along your hairline and tie it at the nape of your neck (instead of under your chin). Drape one end of your scarf on your shoulder and put on your earrings to finish off your look.
With Outfits:
6. Hijab Style For Gown
When you've got a gown that makes you look like a princess, you also need a hijab style that will add to your royal look. Go for a turban hijab style in the same color as your gown and accessorize it with a fancy necklace wrapped around the crown of your head to add a touch of sparkle and shine to your look.
7. Hijab Style For Saree
There's a lot that can go wrong when picking a hijab style to go with your saree. So listen to me closely. Go for a headscarf that matches closely with your saree so that it doesn't create too much contrast and take attention away from the saree's beauty. Tie it up in a simple side pinned hijab style and accessorize it with a fancy headdress to finish off the traditional look.
8. Arabic Hijab Style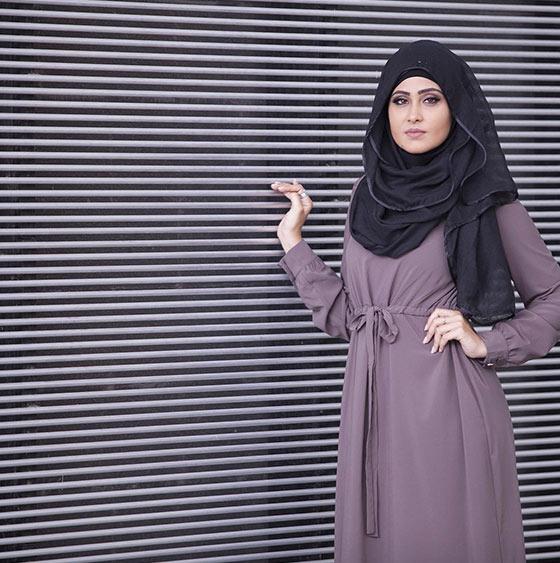 When it comes to Arabic hijab styles, the bigger, the better. Arab women really love to up the volume when it comes to their hijab styles. They usually pile up their hair in high updos and wrap big scarves several times around their head to make their hijab as big as possible.
9. Hijab Style For Glasses
When you wear glasses, wrapping your hijab too tightly around your head can really hurt around your ears. So your best bet is to cover your hair with a hijab tube cap and wrap your scarf loosely around your head to wear your glasses comfortably throughout the day.
10. Hijab Style For Jeans
If you've struggled with styling your hijab to go with your jeans, I've got your back. A cool and edgy style to go for is the turban style with the ends of the scarf hanging loose down one shoulder. Pick a scarf in a color contrasting from your top to make a bold style statement.
11. Modern Hijab Style
The modern woman usually goes for the most functional style and keeps things simple and minimalistic. Unembellished monochrome scarves draped without any pins are all the rage right now. Just drape one casually around your head, wrap both ends once around your neck and let them fall loose down your chest to create this floaty hijab style.
Weather:
12. Winter Hijab Style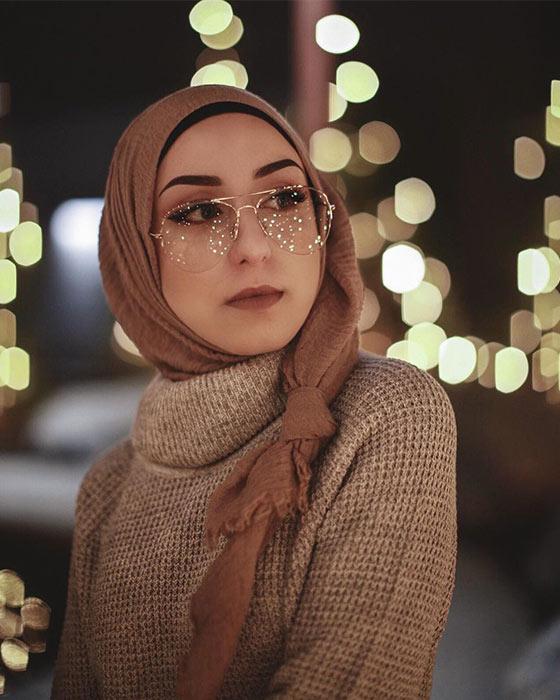 Winter comes around, and it's time to pile on the layers, a simple cotton hijab just won't cut it. What you need is a proper knit headscarf wrapped tightly around your head and tucked snugly into a warm polo neck sweater. Tie a knot with the loose corner of your scarf to add an unexpected twist to your hijab do.
Another great way to keep warm during winters and still look totally fly is to go for a chunky woolen scarf for your hijab. Get one in a posh ivory shade and pair it with a monochrome jacket to look like a million bucks.
13. Summer Hijab Style
Loose and breezy is the way to go when thinking of a hijab style for the summer. Take a big, flowy cotton scarf and casually drape it around your head to beat the sweltering heat. Make sure to not wrap the scarf tightly around your neck to avoid sweating too much.
Face Shape:
14. Hijab Style For Round Face
When you've got a round face, you always run the risk of making it look even rounder when you wear your hijab. The key is to avoid tying your scarf too tightly around your face to ensure it doesn't accentuate its roundness even more. Wrap your scarf a little loosely and fan it out over your chest to cover it. This will draw the eye downwards and have an elongating effect on your face.
15. Hijab Style For Oval Face
A loosely draped hijab that covers half your chest will perfectly complement an oval face shape. Go for a scarf in a bright color and a flowy satin material to create a breezy and casual look.
16. Hijab Style For Big Face
Working with a big face can be a challenge when styling your hijab. But we've got the perfect solution for you. Wrap your cotton scarf from slightly behind your ears the first time around. The second time around, wrap it from near your cheeks and leave the end hanging loose on one side. This will conceal your face from the sides and make it look smaller.
17. Hijab Style For Chubby Face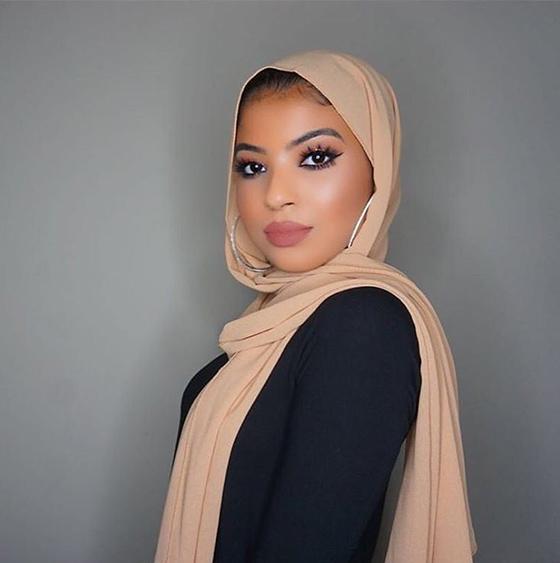 Girl, work those cute chubby cheeks the best you can by going for this minimalist hijab style. Take a long rectangular scarf and just throw it on, wrapped once around your head. And voila! Your look is complete!
18. Hijab Style For Diamond Face
If you've got a diamond shaped face, you've got to flaunt it. And what better way to do it than with a hijab style that keeps all the attention on your face. This unintrusive turban hijab style showcases your diamond shaped face beautifully without covering any part of it.
19. Hijab Style For Heart Face
A good way to accentuate the heart shape of your face is to add lots of volume around it. A good way to do so is to tie your hijab with a super big scarf wrapped several times around your head. Pleat one end of your scarf and drape it across your chest to take your look to the next level.
20. Hijab Style For Long Face
Long faces can be tricky to style when it comes to hijab. So it's best that you keep things simple and avoid too many frills and fancies. After wrapping it once around your head, take it once around your neck as well and drape the rest across your chest to make for a clean look that flatters your long face perfectly.
21. Hijab Style For Square Face
The trick to styling your hijab for your square face is to go for a hijab silhouette that will offset its squareness. Put on a hijab cap and drape your hijab loosely around your face and across your chest to gently round out the sharp angles of your face.
22. Hijab Style For Triangular Face
First of all, if you have a triangular shaped face, I must congratulate you because apparently, it makes you look way younger than your actual age. As for a good hijab style that you can sport, you're in luck because people with a heart shaped face can rock just about any style. My personal favorite is just loosely draping your headscarf without pinning it up to flaunt your sharp jawline.
Occasion:
23. Hijab Style For Eid
Muslim girls around the world absolutely slay with their hijab game every time Eid rolls around. A good way to complete your killer Eid outfit is to go for a matching hijab and tie it casually around your face to make for an easy breezy look.
24. Hijab Style For Engagement
It is but obvious that any girl would want to show off her expensive jewelry. So a tightly wrapped hijab style is out of the question on such occasion. A great way to showcase your fancy necklace is to drape your hijab from near your neckline (as opposed to from your chin) so as to expose your neck and neck piece.
25. Hijab Style For A Wedding Bride
Look like a queen and feel like a queen on your big day with this glamorous hijab style that will take your wedding look to a whole new level. Tightly tie your white hijab (make sure its white shade matches the wedding dress perfectly) and top it off with an opulent headpiece to complete your royal wedding transformation.
26. Hijab Style For A Party
Parties are a great time to experiment with your look and try out styles that are out of your comfort zone. A great hijab style to sport at a party is the super bumped up style. Use a hair bumpit to create volume at the top of your head and tie all your hair in a super high updo. Now, drape your hijab over this hairdo to complete this trendy party-ready look.
27. Hijab Style For School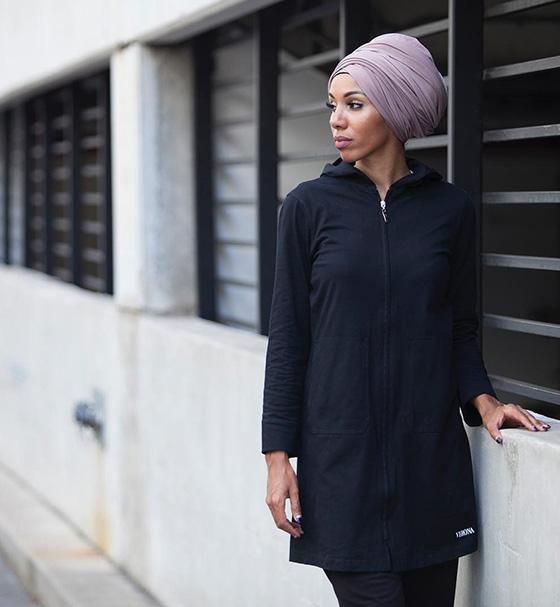 Between running around to change classes, the dreaded PE period, and a host of extracurricular activities, an average student is pulled in a million different directions throughout the day. So a hijab tied tightly around your face and neck is just an invitation for tons of discomfort and sweat. A tightly wound turban hijab style will rid you of both those annoyances and keep you feel comfortable and breezy throughout the day.
Conclusion
So as you can see, my lovely ladies, modest dressing doesn't have to be boring. It can be as trendy and stylish as you want it to be. Now that you know how to wear hijab fashionably and traditionally, what are you waiting for? We hope this bit of styling inspiration that we've provided here helps you keep your hijab on fleek every single day! And don't forget to comment below to let us know which styles you can't wait to try out.